Many home owners intend to use different landscaping ideas to elevate the beauty of their home. Landscaping with rocks gives an exotic look to any garden area. Rock landscaping can include anything from using rocks to make the garden attractive and beautiful.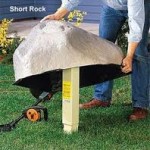 Large rocks or boulders are placed as a part of rock landscaping and they give a stunning effect. They are impressive. At the same time, they are very heavy. They are not even found in all areas. In order to avoid these issues, artificial landscape boulders or rocks are being used these days. They too bring beauty to the home landscape like natural ones. However, before choosing to opt for artificial boulders, go through their pros and cons.
Pros of artificial landscape boulders
Using artificial boulders is a cost-effective solution. Compared to the natural rocks, the cost of artificial landscape boulders is very less. So, they are the perfect means for your low-cost landscaping budget.
Unlike natural ones, they are much light in weight. Because of this feature, they can be moved easily. You can shift their place from one location to other in the garden whenever you want.
They can be molded into any shape and design so that they suit your garden landscaping and theme.
Cons of artificial landscape boulders
In spite of the above benefits, they have certain disadvantages.
Though they resemble the natural rocks, they can never exactly mimic the look of real boulders even after the reproduction or design changes.
You cannot get the permanency of the real boulders with artificial landscape boulders. This is because, they have less longevity. Natural rocks or boulders can last for millions of years.
They cannot compete with the natural stone in strength. The toughest artificial boulders may be broken. They are also prone to discoloration.
Keep in mind the above pros and cons of artificial landscape boulders and make a right choice for your rock landscaping.