Planning for a church wedding is a very traditional form of wedding. Many times people want to celebrate their wedding ceremony in church. The church it self is a most beautiful and peaceful location. When someone enters into the church surroundings, the person can feel the peace in the environment. Church wedding should be unique, so that guests remember it for a lifetime. Church wedding decoration is mostly based on adding pearls, lace, beads, crystals, candles, fresh flowers and dry flowers to enhance the purity of the location. However it should be remembered that the church is a place of worship and the sanctity and purity of the atmosphere, should not be disturbed.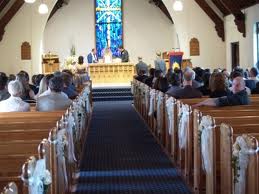 If you are planning for a church wedding, apply a bit of your knowledge and imagination. While you are planning for church decoration, you need to consider the places you want to decorate, like aisle, pew, alter, ceiling, centerpiece, and entry as well as door decorations. Before you are planning for a church wedding decoration , you should consult the administrator of the church to know about what is allowed and what is not. Some church allows all the decorative items but some have restrictions. Also remember to get the permission for decoration.
Here are few things to make a beautiful decoration in a church for your wedding.
First you should take a photograph of the space inside church, and give it to your vendors . With this photograph they get an idea as to how to make their arrangements. With this you can also know how much decoration is needed for the wedding.
Decorate the entry and exist of the church. To design it beautifully you should use fresh flowers, paper flowers and an arch in entrance.
Decorate the doors and windows by using beautiful decoration cloths and bows to look beautiful.
If you would like to have aisle runner in your wedding. Use a colorful ceiling cloth to cover the aisle.
Put the candles before the church in front of the couple. Some people believe that the couple lighting a unity candle or the person performing the ceremony should light them.
Place the centerpiece in church.
Place the flowers at ends of the aisle to make your aisle run most beautiful.
With all the above tips one can make their church wedding more beautiful.