Wedding table decoration will leave an good impression in the minds of your guests. Tables are one of the most important furniture in wedding to decorate. Wedding reception table decor should match with the wedding theme. Many people place the centerpiece on the reception table to give attraction. Put your little creative ideas to make table decoration more elegant. Most beautiful table decoration leaves special identity in the minds of guests. Here are few ideas to decorate the table for reception.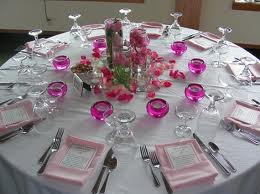 It should represent your wedding theme
Decorate your wedding reception tables with cloths that represents your wedding color and theme. Use different color cloths for different tables, but all should be according to your wedding theme.
Use wedding bells and hearts
Use the wedding bells and hearts shapes to make table decoration. Wedding bells and hearts are common things in table decoration. Use different types of bells that are made in different dimensions and place the hearts on the table. Generally heart shape represents a true love. This will give a good feeling to your guests.
Use candles
Place the candle on the table in different styles and shapes on every table. You may also try the candle light dinner by dimming the light in the hall. The candle light dinner gives some extra happiness to your guests. But use minimum light focus to serve, without light it is difficult to serve.
Name the tables
Name the tables of your wedding reception. Name the table using movies name, flowers name and wonders name. Naming the table is different aspect and increase your guests happiness. They select their favorite name table among all the tables.
Use small plants
Select few small plants and put it on the middle of the table this will give nice look for the table. But do not use big plants, if you use such type of plants they give some uncomfortable feeling to your guests.
With all the above different ideas and adding few ideas of your own, you can make your reception memorable to you and your guests too.