In the comparison test of three small vehicles, conducted by the Consumer Reports, 2011 Kia Sportage has topped the rankings. The other two vehicles that were compared are, the 2011 Mitsubishi Outlander Sport, a sport utility vehicle, and the 2011 Nissan Juke, a uniquely designed small vehicle.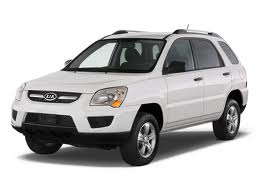 Kia Sportage LX has six speed automatic transmission, good brakes, nimble handling, an efficient power train, and a steady highway ride. The Sportage has 2.4-liter, 176 horsepower, four cylinder engine and its mileage is 22 miles per gallon. The all wheel drive system transmits 100 percent of the power to the front axle. The base Sportage LX has 16-inch wheels, a tilting steering column, auxiliary, air conditioning, USB, Bluetooth connectivity, hill start assist, six airbags, and a low speed, off-road hill descent control. Its price is $23,790.
The Mitsubishi Outlander Sport contains 2 liter, 148 horsepower, four cylinder engine is sluggish and the continuously variable transmission aggravates the engine noise. The Outlander Sport averaged 23 mpg in city and 31 mpg on the highway. It is equipped with latest technologies like Bluetooth phone connectivity iPod/digital media compatibility. Its price is $23,995.
The Nissan Juke SV is small, agile and sporty with nimble handling. The cabin is noisy, but the car has the feature like 1.6-liter turbocharged four-cylinder, which is rated 188 horsepower at 5,600 rpm, 177 pounds-feet of torque at 2,000 rpm and six speed manual transmission. Juke is 162.4 inches long, 69.5 inches wide, 61.8 in. tall on a 99.6-in. Wheelbase and weighs 2,923 to 3,221 lbs. Its mileage is rated as 24 miles per gallon in town and 31 mpg on the highway. Its price is $23,300.
The testers observed that all the three have the elevated ride height of an SUV and the availability of all wheel drive, they also said that they had sportier appearances and are handled better.